UHNW Institute
Reimagining Family Business Transitions – New UHNW Institute White Paper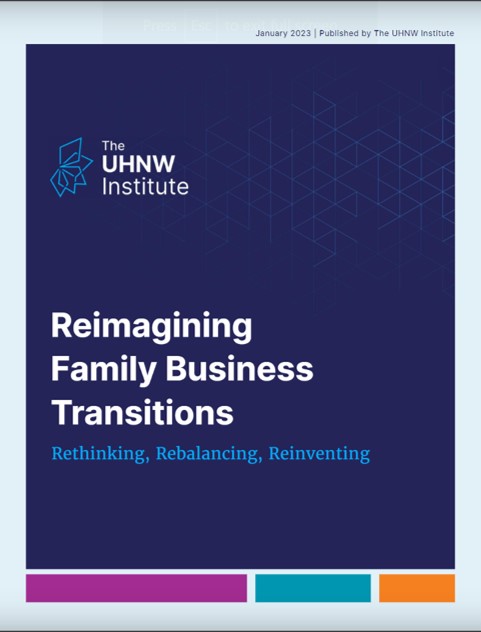 The paper is part of a continued series of thought leadership and research produced by the US-headquartered UHNW Institute.
This news service is pleased to share the following White Paper from the UHNW Institute, with which FWR is the exclusive media partner. The paper is called Reimagining Family Business Transitions: Rethinking, Rebalancing, Reinventing. The 21-page report looks at how, at this time of oft-stated intergenerational wealth transfer, the issue of business succession can be addressed.
The paper is addressed at advisors and families going through the process or contemplating it, and we hope that it adds fuel to debate about how to think about these issues.
The paper is written by Stacy Allred, senior managing director, head of family engagement and governance at First Republic Investment Management; Dannis Jaffe, PhD, senior research fellow, BanyanGlobal Family Business Advisors; Ken McCracken, family business consultant, MFBC Limited, and Daniel Trimarchi, director, family enterprise advisory at KPMG, Australia.
The document concludes with a reference to the Institute's 10 Domains in Family Wealth, the methodology that the organization has developed to help advisors and clients frame conversations about wealth and the issues and challenges stemming from that.