UHNW Institute
Unpacking What Advisors, UHNW Families Must Do – The UHNW Institute Symposium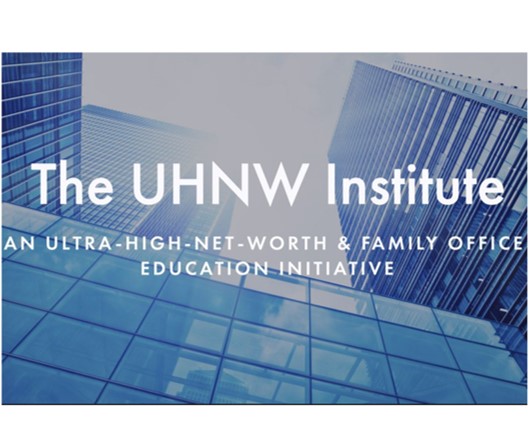 The task confronting advisors serving UHNW families in the US and further afield is changing. It is more complicated, there is a need to bring specialists together, while keeping certain conversations focused. We spoke to two directors of the UHNW Institute following that organization's symposium in New York.
There is a burning need for family governance and related fields of advisory work focused on UHNW families to have the kind of overall training and certification rigor that applies to industry professionals working in the investment, financial planning, legal and accounting fields.
Plus, there is a relative lack of easy-to-find expertise for these families in specialist fields such as family dynamics and leadership development – and these are important growth areas, senior figures at the UHNW Institute have told this publication.
Family Wealth Report spoke to Wally Head, founder and principal of Personal Fiduciary Advisors, and a director of the Institute, and Jim Grubman, owner, Family Wealth Consulting, also an Institute director. Both men spoke at the organization's recent Symposium in New York, held under the banner: Roadmap to 2030 – Serving 100-Year Multigenerational Families.
FWR asked them about their takeaways from the Symposium and what they see as important UHNW Institute goals.
"Advisors to UHNW families need to anticipate and plan now for how these families will want to be served in the future as they become more diverse in all respects and planning for them becomes even more complex," Head said. "While the current high inflation, rising rate and volatile market environment makes some strategies more and others less attractive, these families and their advisors need to take a long-term view and not react to daily news", he continued.
One conclusion reached at the Symposium is that the job of helping families cannot rest on a single advisor's shoulders, Head said. "The better advisors realize they cannot do all this alone. The age of the `trusted advisor' has changed to the age of the `trusted team'," he continued.
A panel discussion which Head moderated highlighted the need for collaboration among advisors across various domains of expertise, and for one or more of them to take the role of pulling together everyone's insights and activities. "If no advisor serves as the integrator then, by default, members of the family need to do so, and that can lead to problems," Head said.
The panel also observed that some business models make this approach very difficult to achieve. "It is hard to see how the collaboration and integration required to serve an UHNW family's best interests is aided by a business model that focuses on top-line revenue growth, quarterly earnings, cross-selling and similar activities", he said.
Grubman argued that it is easy to envisage a sort of "hub and spoke" model where one advisor or group coordinates most things with the client family but is able to draw on the expertise of people in specialty domains as those skills are needed. Although to some advisors this mental model can imply a hierarchy in which the specialists are subordinate in some way, in fact those specialists are just as important as the "hub" advisors in serving the family's complete needs.
An issue for firms seeking to provide specialist services is how to get paid for the work – should they try to perform it in-house or outsource it? "A firm's decision to outsource creates the challenge of finding specialists it can trust and who have the capacity to deliver," Head said. "This process involves aggressive networking and due diligence that currently requires a word-of-mouth system of finding other people who know the specialists and have used them," he continued.
Asked if there is a need for a more formal and reliable credentialing service for advisors in areas such as family governance, Grubman agreed. He said the Institute is considering certification which would cover cutting-edge skills such as collaboration, "expert generalist" skills, and experience at the UHNW family-office level, not just standard wealth management.
"You have to get word of mouth recommendations partly because the industry is still young and under-developed in its training, education, and certification standards," Grubman said. "This problem will only get worse as demand for these advisors continues to escalate while supply stays relatively limited."
Grubman noted that the Institute's methodology – The Ten Domains of Family Wealth – has been very well received by families and advisors since its inception nearly three years ago. (See here for more background.)
"People are citing [the methodology] and want to use it in articles and books they are writing. We hear from advisors who put this in front of families where it generates a lot of productive conversations. It is providing a way for families and for advisors to assess what they have and to make plans for what they need," he said.
The Institute is going to roll out a French translation of the Ten Domains model – giving access to markets such as French-speaking Canada. All of these initiatives are a very positive development, Grubman said, adding, "We are living in a very exciting, dynamic time in the field."
(FWR is exclusive media partner to the Institute. To find out more content, search on "categories" at the top of the homepage and search for "UHNW Institute." The latest list can be found here.)