Compliance
Global AML Risks Rise; Non-Banks, Cryptos Raise Vulnerabilities - Study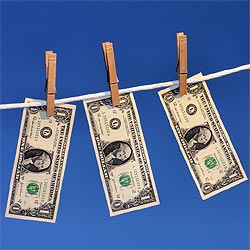 The annual global study of 110 jurisdictions around the world found that the fight against dirty money remains tough. It warned that all too often there is a gap between promises to change behavior and actual results.
The Caribbean island of Haiti has the highest risk ranking for money laundering and terrorism finance, while the tiny European jurisdiction of Andorra has the lowest, according to an index published by a Swiss institute that also raises alarms about areas such as cryptocurrencies.
Yesterday, the Basel Institute on Governance released the 10th annual edition of the Basel AML Index. It said that its figures raise "grave questions" on whether jurisdictions are serious about tackling their money laundering and terrorist financing risks, questioning what is holding them back.
The average global money laundering risk score increased from 5.22 to 5.3 out of 10, as assessed across all 110 jurisdictions in the 2021 Public Edition of the Basel AML Index. Even among jurisdictions whose risk scores improved this year, none managed to improve by even one point out of 10. Half of the improvements were 0.3 of a point or less. (The index assesses ML/TF threats based on 17 indicators.)
Risk scores are based on data from publicly available sources such as the Financial Action Task Force (FATF), Transparency International, the World Bank and the World Economic Forum.
The Cayman Islands was among the highest risk jurisdictions, with a score of 7.66, just ahead of Mozambique (7.71) – a fact that is likely to prompt a sharp pushback by the British Overseas Territory. China also scored poorly, at 6.7. Panama is rated at 6, while Macao is at 5.93 and the United Arab Emirates is at 5.91. Malta, a European Union member state, is at 47th place at 5.45, Hong Kong is in a medium-risk area of 5.2, while Japan fares slightly better at 4.99. Switzerland, the world's largest offshore hub, ranks at 4.89; Singapore is at 4.65, the US is at 4.6, while the UK is at 4.05. Andorra, as previously mentioned, has the lowest risk score at 2.73, beating Finland in second place.
Among the alarms raised is the "generally weak application" of AML/counter-terrorism finance preventive measures by lawyers, accountants, real estate agents and other designated non-financial businesses and professions (DNFBPs), it said.
The report also stated that there is a gap between how AML and other systems comply with technical recommendations from the Financial Action Task Force – the intergovernmental body leading the charge against dirty money. They don't work well in practice.
Jurisdictions score "rather badly" for effective implementation across the board and the discrepancy between technical compliance and effective implementation is even worse in relation to prevention, the report noted.
Crypto worries
The study found that the use of virtual assets such as bitcoin is rising fast, for legitimate and illicit reasons.
In January 2021, there were an estimated 106 million cryptocurrency users globally. However, the report lamented that figures on how any of these may be using cryptocurrencies for criminal purposes, including to launder stolen money, is scarce. It noted that according to a 2021 report by blockchain analysis firm Chainalysis, of the estimated $21.4 billion in cryptocurrency transactions in 2019, criminal activity represented around 2.1 per cent ($450 million).