Awards
Family Wealth Report Awards Innovation Spotlight Magazine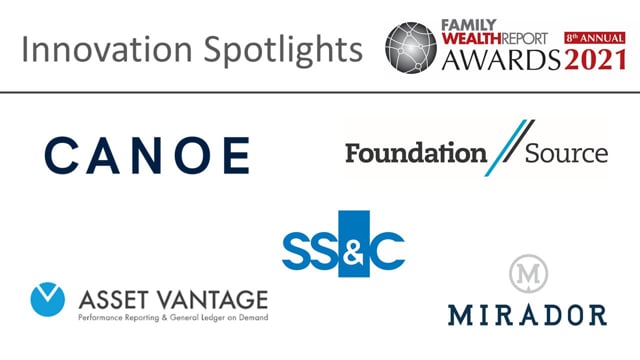 Duration: 7.90
The publication carries interviews with a range of firms following the FWR awards.
This news service is pleased to launch its Family Wealth Report Awards Innovation Spotlight Magazine. The publication honors outstanding individuals across the family office and wealth management sector in North America. This follows our awards announcement here.
The publication carries interviews with Asset Vantage, Canoe intelligence, Foundation Source, Mirador and SS&C Technologies. (See this document for a text version to accompany the video.)
The interviewees are Chirag Nanavati, Managing Director (Asset Vantage);
-- Mike Muniz, Partner and Chief Revenue Officer (Canoe);
-- Stephen Aponte, Vice President, Head of Product, Design & Strategy (Foundation Source);
-- Jeremy Langlois, Partner (Mirador); and
-- Darren Berkowicz, Managing Director (SS&C Technologies).