UHNW Institute
Best Practices For Family Offices, Advisors - UHNW Institute Conference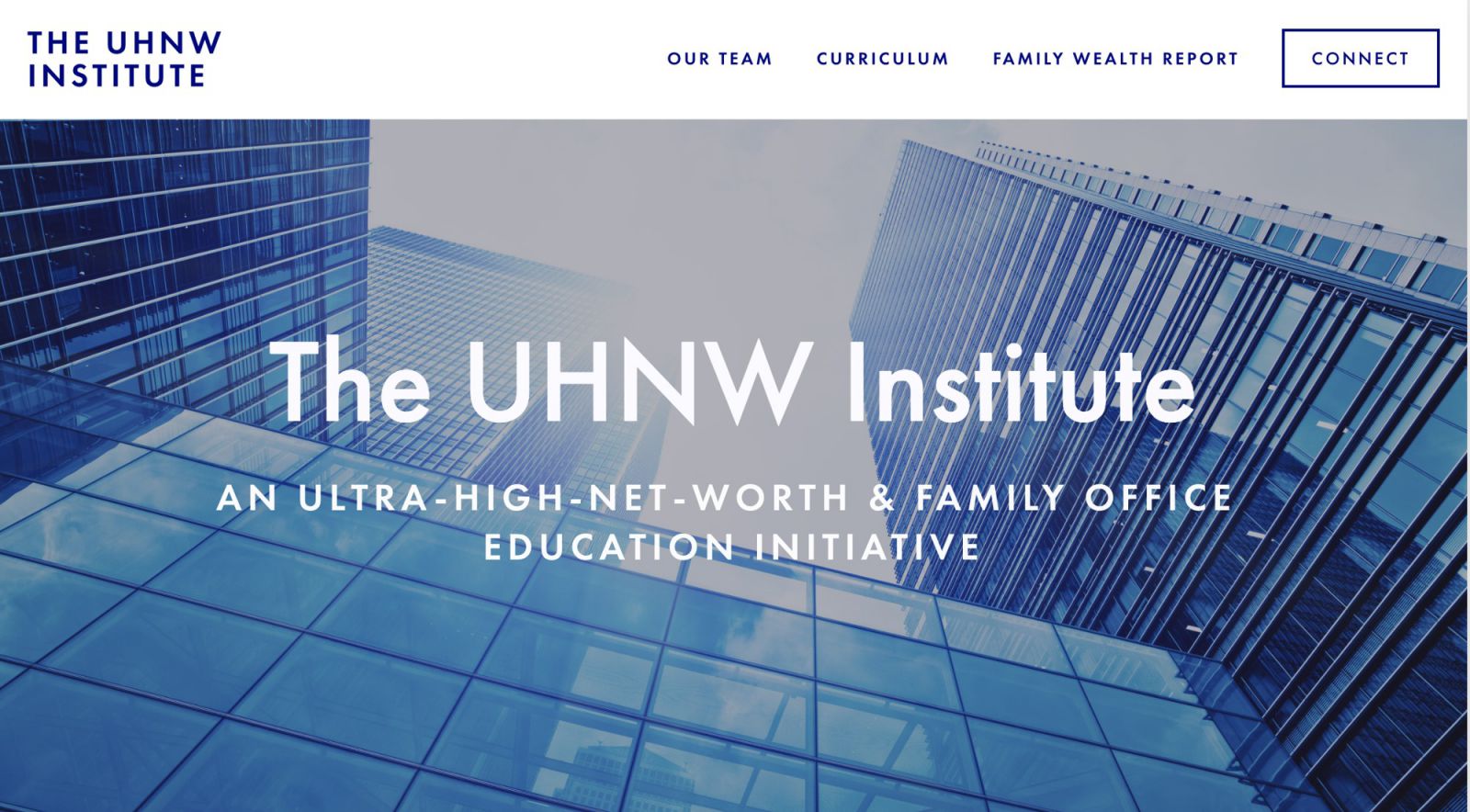 Some of the most pressing issues that face family offices, their members, and the advisors working with them, were put under the microscope in a two-day conference held by the UHNW Institute last week. This is a summary of the main discussions, with video clips alongside.
North American family office figures - including family members involved directly with these institutions - held in-depth discussions on the challenges facing them and their client families at the recent UHNW Institute two-day conference.
Here is a video of the edited highlights of the discussions and presentations.
Day One
Advisors, consultants, and ultra-wealthy families gathered at the virtual event - produced in conjunction with Family Wealth Report - to address new frameworks for the tasks and skills required to serve the increasingly complex families of today and tomorrow. Topics included talent management, regulatory concerns, handling family dynamics, and what the future may hold as demographics transform families.
The first presentation, "The Ten Domains of Family Wealth - The First Year," was led by Jim Grubman, content and curriculum chair at The UHNW Institute and owner at Family Wealth Consulting. Explaining the ten domains (see FWR interview on the model), Grubman noted that advisors and families have already begun actively embracing the model since rollout of the new paradigm last spring. His presentation was followed by a series of breakout sessions on aspects of the ten domains. The discussion post-breakout set a pattern of lively engagement by participants that continued throughout the remaining two days of the conference.
The next session was moderated by Bill Woodson, a UHNW Institute founder and head of Wealth Advisory and Family Office Services at Boston Private, who led a panel entitled "Family Offices - Challenges and Opportunities." Fellow panelists were Michelle Clements, president, Synergy Trust Partners; Dennis Jaffe, senior research fellow, Banyan Global Family Business Advisors; Tom Handler, chairman, Advanced Planning and Family Office Group, Handler Thayer; Barbara Hauser, consultant and editor of the International Family Offices Journal, and Linda Mack, founder and president, Mack International LLC.
Woodson kicked off discussion with the thorny subject of regulation and of how the recent implosion of Archegos Capital, a hedge fund structured as a family office, was being used by some regulators and legislators as grounds to police family offices more tightly. For example, the House Financial Services Committee chairwoman, Maxine Waters, has proposed draft legislation requiring family funds managing more than $750 million to be subject to Dodd-Frank's regulations.
Woodson – reprising the kind of comments made to FWR a few weeks ago – said it would be very disruptive for family offices to abide by such new regulations and that such rules missed the real problem. The problem was not family offices but the individuals within them making decisions, along with their counterparties. "What [Archegos founder Bill Hwang] did appears to have been totally legal based on what has come out so far," Handler said. He also voiced a broader worry that wealthy Americans are being targeted unfairly and that the Archegos debacle is a part of that.
Turning to recruitment and talent management issues, Linda Mack set out trends in the family offices recruitment sector, noting developments such as increased professionalism and formalization of governance, use of long-term incentives and forms of deferred compensation.
Jaffe and Hauser discussed why family offices are created and ideas about the suitable time to set one up. Hauser, for example, noted that one doesn't often hear about family offices being created prior to a liquidity event. Jaffe noted that when liquidity events happen, there could sometimes be a rush among family members to invest when in fact it would be wiser to wait for some time. Jaffe also noted one hot area is the interest in creating family offices in China and India, and the very specific cultures within both.