People Moves
Summary Of North America Moves In Wealth Management - March 2021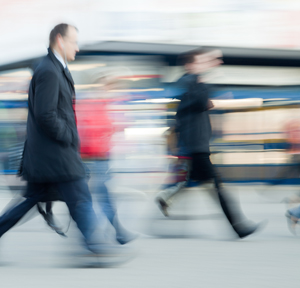 Here is a round-up of senior moves in the wealth management sector across North America.
Wealth management advisory and coaching firm Carson Group hired Christopher Page as vice president of mergers and acquisitions. Page moved from KCB Private Equity in Pasadena, California, where he led investment development, deal sourcing and origination.

The former CEO and president of Boston Private, Clay Deutsch, joined The Coury Firm's board of advisors. The privately held multi-family office is based in Pittsburgh. Prior to joining Boston Private, Deutsch was a senior partner at McKinsey & Company where he led organizations in strategy development, operations improvement, M&A, and divestiture and merger management. He serves on several non-profit boards in the healthcare, education and arts sectors.

Bellwether Asset Management hired Cara Leonard-Munn as senior vice president, debt asset management. In her new role, Munn is responsible for leading the Bellwether debt asset management team. Munn previously worked at CBRE where she provided structured finance advisory services. She also worked at Savills, leading the Global Hotel Group investment banking platform.

Sanctuary Wealth added North Carolina-based RHA Wealth to its network, bringing in a business with about $250 million in assets. RHA Wealth, which operates from Raleigh, consists of managing directors John Rumsey, Robert Hartinger and Clark Abbott, supported by registered senior wealth associate, Ashley Rushin. They were previously with Merrill Lynch.

The firm also welcomed Cedar Gap Wealth Management, which was founded in 2008 by Michael Hull and Ben McAnally. They worked together as the Hull & McAnally Group at Merrill Lynch Wealth Management in Abilene.

International law firm McGuireWoods added partner Garrett Johnston, who advises private equity funds, their portfolio companies, independent sponsors and family offices on transactional matters. He is based in Houston, Texas. He came to McGuireWoods from Willkie Farr & Gallagher.

Advisor Group recruited Rosenblum Wealth Management into its orbit - a solo practice based in Jupiter, Florida, and Flemington, New Jersey. The group oversees $173 million in total client assets. Rosenblum Wealth Management joined Advisor Group through its subsidiary and network member firm SagePoint Financial. Advisor Group also includes FSC Securities, Royal Alliance Associates, Securities America,
Alex. Brown, part of Raymond James, welcomed five client advisors collectively managing more than $695 million in client assets. The team is based in Florida, Georgia, North Carolina and Washington, DC.

The advisers are:
Miami, Florida-based Christopher Murrle-Philippsen from Wells Fargo, and Jose de la Lama, CFP®, from Merrill Lynch;
Atlanta, Georgia-based Lee Haverstock, CRPS®, from Morgan Stanley;
Winston-Salem, North Carolina-based William Taylor, CFP®, from Merrill Lynch; and
Washington, DC-based Mark Murphy from Janney Montgomery Scott.

Raymond James Financial Institutions Division (FID), part of Florida-based Raymond James, brought in advisors Tracy Cottingham, Steve Brackman and Jeff Chesson to its embrace. The advisors manage more than $260 million in client assets. They moved to Pinnacle Asset Management, the wealth management arm of Pinnacle Financial Partners and a current FID-affiliated branch. The team came from Wells Fargo Advisors and operates as Capstone Investment Partners, located in Greensboro, North Carolina. Joining them is Angela Dodson, registered sales assistant.

Sammons Financial Group named Cooper Sinclair as associate vice president, sales and distribution for RIA distribution. Sinclair leads the firm's RIA channel, which involves setting up and growing sales and distribution opportunities, and identifying and carrying out projects that build the fee-based RIA business of Sammons. Before this role, Sinclair led the national RIA strategy for Prudential Financial. Prior to that, he had similar RIA leadership roles at Lincoln Financial Group and Jefferson National (now Nationwide). He has been in the financial services industry since 2000.

Envestnet, the New York-listed wealth management systems firm, made four senior appointments for its executive team. The team members are Mary Ellen Dugan, Farouk Ferchichi, Jillian Munro, and Neel Ray.

Dugan, chief marketing officer, who reports to Envestnet president Stuart DePina, focuses on driving Envestnet's business and brand growth. Ferchichi, chief data and analytics officer, reports to DePina.
Munro, who took up the newly-created spot of group head of data and analytics, reports to chief technology officer Bob Coppola.

Ray, who is head of mergers and acquisitions, reports to chief strategy officer Rich Aneser. In addition to overseeing M&A, Ray partners across all Envestnet business lines to advance the company's corporate development efforts. He has more than 20 years of experience in M&A, fintech investing, and corporate strategy to his role at Envestnet.

Glenmede, the US wealth manager, appointed Linda Manfredonia as regional director of its Wilmington office and president and chief executive of The Glenmede Trust Company of Delaware. She reports to Susan Mucciarone, executive director of private wealth. Manfredonia took over from Geoff Rogers who retired after 22 years as the head the Wilmington regional office. Manfredonia has had a 30-year career at PNC, where she held leadership positions, including chief fiduciary officer, chief risk officer and chief administrative officer for the bank's asset management group, and, prior to that, regional managing director for the Greater Philadelphia area.

Americana Partners appointed former senior Morgan Stanley figure Ronald E Thacker as president. Based in Austin, Texas, he reports to chief executive Jason Fertitta.

Thacker is a former managing director and regional director for Morgan Stanley Wealth Management. With 35 years of experience in the financial services industry, he led Morgan Stanley's central region management team, where he directed more than 2,000 advisors across 13 states. Thacker worked at Morgan Stanley for 30 years in leadership roles before leaving in 2020.

Rockefeller Capital Management added Ohio-based firm The Hambleton Fieler Group, its first private wealth firm in the Buckeye State. The team is based in Cincinnati under division director Michael Parker. The Hambleton Fieler Group is led by Ross Hambleton and Michael Fieler. The team of eight, who are joining from Merrill Lynch Wealth Management, will also include Matthew Hambleton, MD and PWA, Andrew Sullivan, vice president and PWA, Carrie Thomas, VP and chief investment officer, Margaret Hawk, VP and team chief operating officer, Marcy Maudlin, lead administrative partner, and Kathleen Stucker, senior client associate.