UHNW Institute
Achieving Best-In-Class Wealth Management Integration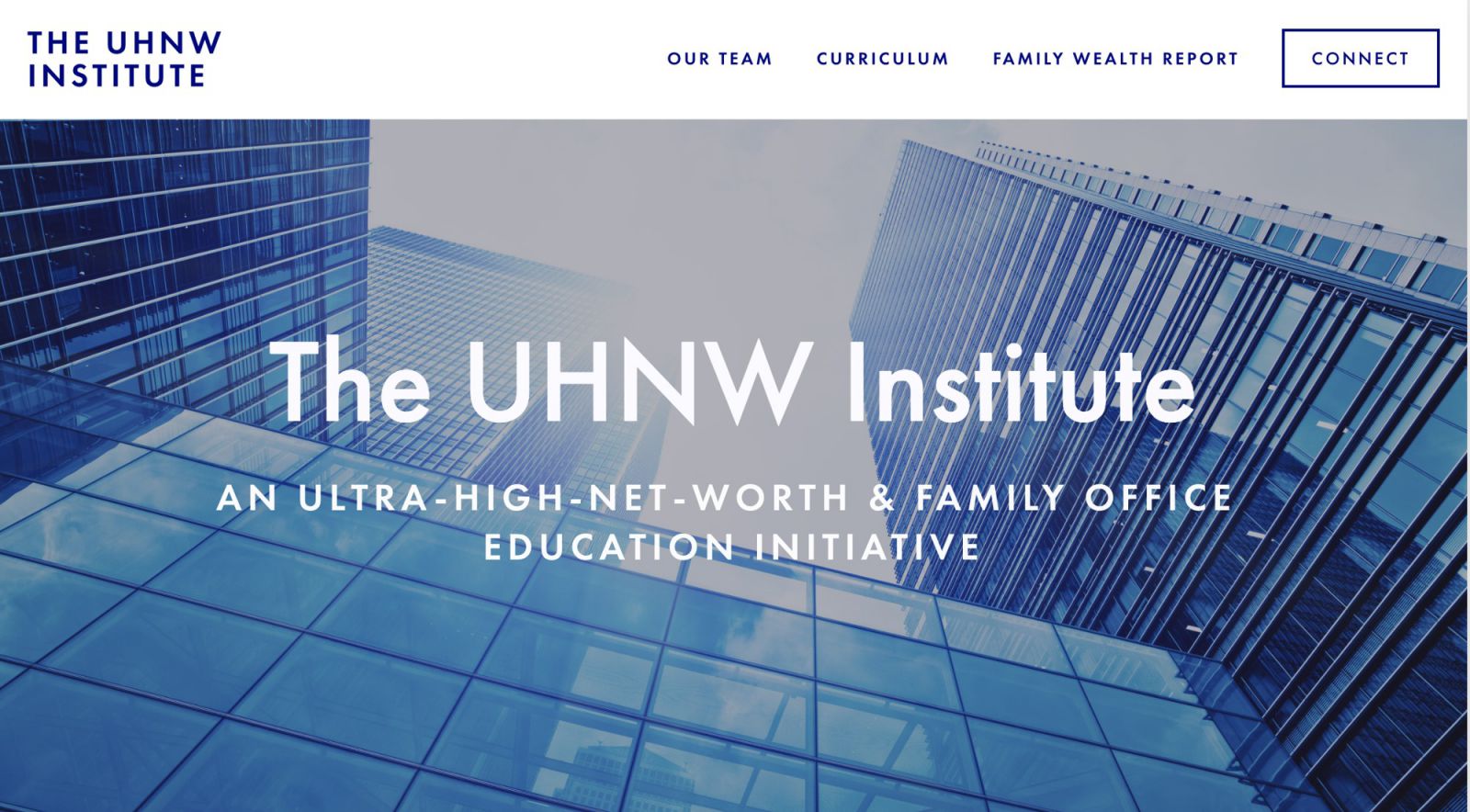 How should wealth advisors work together to ensure that they deliver the best possible service to UHNW families, particularly given their often complex needs? This article from the UHNW Institute in the US sets out some guidelines.
The following article comes from the UHNW Institute, the US-based think tank with which FWR is the exclusive media partner. This article examines the ways that families get the most out of their advisors in handling their complex business and non-business affairs. It sets out some pointers and illustrates the landscape that advisors and families must navigate. The author is Joe Calabrese, who is a member of the institute's advisory board, and National Head of Wealth Advisory Services at Key Private Bank.
The editors of this news service are pleased to share these insights. Further examples of UHNW Institute commentary and analysis can be found by clicking on the "categories" button on this news service and going to the UHNW Institute field. (See here for a list of content.)
For an ultra-high net worth (UHNW) family's strategy to succeed, it is accepted wisdom that the efforts of its advisory team members must be integrated. However, being widely accepted doesn't mean integration is easy to do. In fact, effectively combining the work of various disciplines on the team into a cohesive unit is one of the biggest challenges in wealth management.
When advice from different disciplines isn't fully integrated, a plan to achieve a family's multiple (and often conflicting) goals can fall short. Fortunately, ultra-wealthy families can take important steps to achieve best-in-class integration and maximize the value of their advisors' work.
By leveraging an integrated wealth strategy, ultra-wealthy families have a much greater chance of meeting their needs and achieving their goals. But because implementing such a strategy can be difficult, advisors must pay heed to factors that may prevent its effectiveness and guide clients in the best way to achieve integration.
The wealth management ecosystem
For UHNW families, comprehensive wealth management extends beyond investments, taxes, wills and trusts; it includes family governance, leadership development, succession planning, philanthropy and a host of other considerations. A thought leadership model for organizing these needs and service areas – The Ten Domains of Family Wealth (See Figure 1.) – outlines various factors families should consider and provides a roadmap for them and advisors to provide integrated, collaborative, client-centered services for their benefit.
Figure 1: The Ten Domains of Family Wealth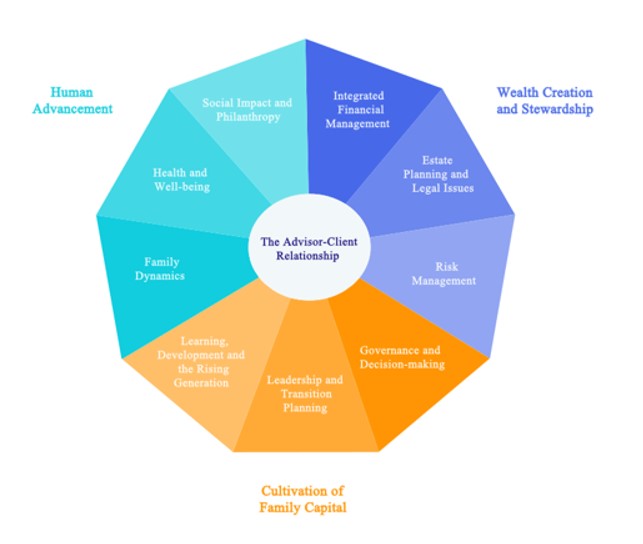 As a result of these factors, the wealth management ecosystem is inherently composed of a large number of advisors and constituents. (See Figure 2.)
Figure 2: The Wealth Management Ecosystem

The role of Integration in wealth management
Families with successful wealth strategies share a common view: they acknowledge that integration adds value and find its incremental costs to be worthwhile. These families recognize the importance of two key factors.
The first is understanding and managing interdependencies. Effective wealth management is greater than the sum of its parts. All the elements need to work together toward a common purpose. A strategy has the best chance of succeeding when it is managed like a business, with a leader who ensures clear accountability and coordination across all functions. Every UHNW family that has run a successful business understands the importance of coordinating the work of various teams – human resource management, finance, sales and marketing – when making critical decisions and plans. Ultra-wealthy families benefit from applying many of the same governance and management practices to the management of their wealth.
The second key factor is seamless execution. A well-designed wealth strategy requires thorough, comprehensive planning. However, no strategy can be counted on to achieve important goals without timely and effective execution, which requires ongoing oversight, adaptation as circumstances change, and full integration of the work of professional team members and constituents.
Challenges to effective integration
If everyone agrees that integration is critical, why is it so difficult to achieve? There are a number of obstacles that, for simplicity, we sort into two major categories – weak client commitment and poor team dynamics.
Hesitation is one example of weak client commitment. Effective integration requires dedicated and competent leadership. In some situations, neither the client nor any member of the client's team wants to take a leadership role. This is often the case when the value of integration is under appreciated. Procrastination is another example of low commitment. Even when a wealth management leader is identified, that leader – a family member or one of the advisors – can delay accepting the role or responsibilities because of lack of confidence, competence or conviction.
Another factor contributing to low commitment is cost. The costs of integration present a dual problem. While we see an increasing demand from clients for integrated, objective advice, families are often reluctant to devote time to integration because they are apprehensive about the high cost of assembling numerous professionals, many of whom bill by the hour. From an advisor's perspective, effective integration has proven expensive to deliver, given some combination of the need to either hire numerous professionals to provide different services and the need to oversee work delegated to other third parties. This demand-vs-supply imbalance presents challenges for clients and the wealth management industry to successfully develop and implement comprehensive plans.
Poor team dynamics represents the other major category of obstacles to effective integration. It is often evidenced by weak coordination, a narrow focus and conflict avoidance among team members. For example, the work of advisors chosen by the client may not be synchronized with other team members. The resulting weak coordination can complicate working relationships and a lack of trust among parties.
Also, advisors can be focused on their own area of expertise and not consider the overarching objectives of the family and the interdependencies with other disciplines. Such a narrow focus can lead to missed planning opportunities, administrative errors such as missed, erroneous or late filings. When attempting to achieve amicable working relationships, advisors may be concerned about being liked and accepted by others and avoiding conflict. As a result, they may not be effective advocates for solutions they recommend that may be unpopular but in the family's best interest.
Additionally, competition, outdated skills, and conflicting egos are other common contributors to poor team dynamics. Advisors may view themselves as competing with each other for favored status with the family and a limited pool of fee income. In terms of skills, the expertise of some long-serving advisors may not be keeping pace with the changing wealth management landscape and increasingly complex needs of an ultra-wealthy family. Ungoverned egos can hinder effective teamwork, especially if team members believe their territories are being encroached upon.