AML Industry Seen Chalking Up Double-Digit Value Growth
Tom Burroughes, Group Editor , October 15, 2020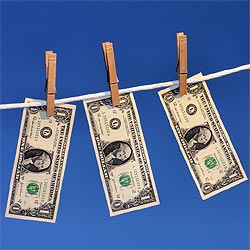 A report puts some numbers on the sheer scale of the sector involved in fighting laundered money around the world, as highlighted by a run of cases in recent years.
The global business of countering dirty money is expected to reach $1.99 billion by 2025, clocking up a compound annual growth rate of 13.6 per cent from 2019 to mid-decade, highlighting how anti-money laundering is a major industry.

Figures from Million Insights, a market research database, showed that in 2018, the software component held the largest market share of more than 62.0 per cent in terms of revenue. Among product types, customer identity management made up the largest market share of more than 32.0 per cent of the global revenue in 2018.

The cloud deployment type is projected to grow with the highest growth rate of 16.0 per cent from 2019 to 2025. In 2018, North America dominated the market and accounted for over 48.0 per cent, in terms of revenue.

Prominent players in the sector include ACI Worldwide, Accenture, NICE Actimize, Trulioo, Cognizant, Tata Consultancy Services Limited, Fiserv, SAS Institute, Open Text Corporation, BAE Systems, Oracle and Experian Information Solutions.

As recounted by this and other news services, scandals surrounding Malaysia's 1MDB fund, laundering of money from Russia via Baltic states, and breaches of sanctions against regimes such as Iran and Cuba, have been regular occurrences. Controversy about the kind of whistleblowing powers banks and other financial actors erupted a few weeks ago by "leaks" from a US agency about how banks continued to serve clients even after filing suspicious activity reports on them. (See here for an analysis of that topic.)

"Governments across the globe are striving to tackle the money laundering activity to ensure security. In addition, governments are also focusing to implement stringent regulation to mitigate law enforcement risk," the report said. It cited the example of how, in 2018, the European Union's 5th Anti-Money Laundering Directive was updated. This aims to form a public and centralized register of companies and its benefits to the owners, and hence eliminate shell companies.

The report also noted how the rise of cryptocurrencies affects financial crime. For example, the government in Australia has started to monitor the Digital Currency Exchange to avoid money laundering in the digital space.