Art
The Art Market: What Has Changed, What Should Stick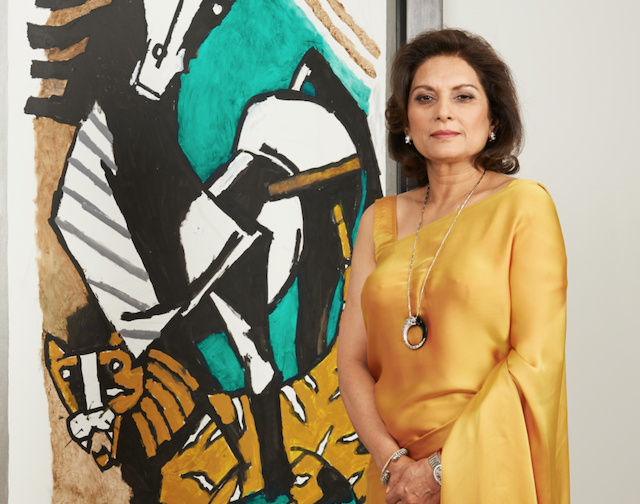 The pandemic offers art world players a chance to make big industry changes. This view, from a long-time collector, marks a fresh look at this important asset class for coverage in August. The last few months for the sector have been a painful reset for some and a renaissance for others. Either way there's plenty to unpick.
Many collectors may be wondering whether now is a sensible time to be investing in art. Collector Anita Choudhrie, who founded the Stellar International Art Foundation in 2008 with her family's private collection, thinks that the coronavirus has created a new and intriguing landscape for art investment, which she explains in this commentary. The last few months have certainly shaken up how art is being viewed, bought and appreciated, and some market places have found bouyant new audiences online.
Over the next month, we will be looking at how this important wealth symbol and evolving asset class has managed during the first half of the year, and talking to those in the industry about what adaptations are making the market, worth around $70 billion, more resilient and accessible. In this curtain raiser, Choudhrie shares her observations. We welcome such contributions and encourage you to respond on the topic to tom.burroughes@wealthbriefing.com and jackie.bennion@clearviewpublishing.com.
Over the past decade, a significant number of state subsidies for arts organizations, galleries and museums have been cut. As a result, most institutions now rely on contributions from commercial companies or philanthropic donations in order to boost their annual income.
However, during any period of economic instability, people are more cautious with their money, including spending and investments. For example, whilst over £8 billion is donated by individuals across the UK to charitable institutions each year, amid the current uncertainty, this is expected to drop by 29 per cent.
Naturally, this significant shift will have a huge impact on entire art ecosystems, affecting artists and galleries, as well as the great number of other people who make a living from the community.
Yet it is during periods of significant upheaval that art and philanthropy can offer their greatest contribution to society, bringing people together from across all walks of life and stimulating the human spirit through shared appreciation.
With this in mind, now is a crucial time for collectors to be supporting the delicate art ecosystem wherever possible.
Several auction houses and galleries have set up charity sales, offering collectors a unique opportunity to purchase credible art at incredible prices, whilst doing their bit to keep the market afloat. A recent example was the online auction held in May by art dealer Danny Katz in conjunction with Sotheby's. The sale comprised 140 pieces, with Katz commenting; "The estimates for some of these things are ridiculously low and hopefully they will go higher. But there are opportunities for people to buy beautiful Scandinavian art, 19th century art, Modern British art, Renaissance sculpture…top objects at very reasonable prices."
It is unlikely that the prices of the most established artists will significantly drop, but as COVID-19 forges on, prices across the board are likely to start falling. Pieces which have been overpriced will be recognized as so, and their prices will alter accordingly. These market shifts offer collectors an opportunity to pick up artworks which were previously unattainable.
Aside from this, the pandemic is also offering the chance for anyone with an active role in the art world to be instrumental in much-needed industry change.
Philanthropic contributions to the arts have long been associated with gifts from wealthy individuals or large foundations. As a result, class and wealth have set up a divide in the art world, barring the masses from fully engaging in the close-knit community. Additionally, the fine art market continues to be stagnant when it comes to the type of artists who have the biggest market share. Out of the topmost profitable artists, the majority are white and male.
Since 2018, Stellar International Art Foundation has put additional resources into supporting female and minority artists, by giving them a platform to display and promote their work. "Despite the pandemic, our work in this area has continued this year. In March, we held our third annual event in support of International Women's Day, this year to celebrate the work of emerging artist Adia Wahid, whose focus on algorithms and technology has become even more relevant during the pandemic. Some galleries are also using this time to tackle the industry imbalance by selling the works of more established artists and using part of the funds from these sales to buy the works of more junior artists in need of backing."