Alt Investments
Family Offices' Gold Allocations Are Modest – With One Exception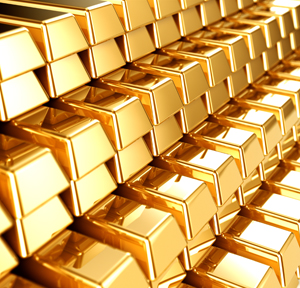 Single family offices don't allocate major chunks of their total wealth to gold, although there are some outliers and examples of significant holdings. Gold has been the classic portfolio insurance asset down the ages and store of value. There's a reason why some central banks continue to hold large amounts of the yellow metal.
This publication has been working with data analysed by Highworth which explores trends in the single family offices space (see here to register for a trial). This latest analysis from Highworth's founder and managing director, Alastair Graham, examines what family offices are doing in the realm of gold: considered by many still to be the ultimate safe-haven asset. OK, over to Alastair:
The possibility of a hard Brexit in December 2020, the continuing US-China trade war, indications of an economic downturn in Europe, Hong Kong unrest, all point to the probability of volatility in financial markets and a sharpening of economic risk carried over from 2019 to 2020.
In the 2019 UBS/Campden Wealth report on family offices, 55 per cent of the family offices surveyed expect a recession in 2020.
Gold, commonly seen as a hedge against economic risk since time immemorial, has reflected a rising sense of possible market turbulence to come. From December 2016 to December 2018 the price of gold moved from $1,145.9/oz to $1,219.8/oz, a modest rise of only 6.4 per cent over the two-year period. However, from December 2018 to December 17, 2019 the price had risen to $1,475.8/oz, a gain of 21 per cent.
Have family offices been piling into gold over the past year? Some undoubtedly did and have both contributed to, and enjoyed, the hefty price rise of the yellow metal. General enthusiasm among family offices has, however, been muted. The UBS/Campden Wealth report, which surveyed 360 family offices in the US, Europe and Asia, found that allocation to gold took only 0.8 per cent of an average portfolio's value.
A review of a much larger number of family offices – a total of 850 single family offices in 64 countries outside the US to be found in the online Global Single Family Offices Database from Wealthbriefing and Highworth Research – found that only 7 per cent were invested in precious metals in 2019, with only four countries, the "usual suspects" of Canada, Australia, South Africa and the UK, countries with an historic "bullion heritage", showing a percentage of family offices investing above the overall average.
The Wealthbriefing/Highworth SFO Database does, however, show up one striking exception to the apparently listless approach shown by family offices to gold investment.
Background to the wealth of Naguib Sawiris
La Mancha Holding is a family-owned investment company of Naguib Sawiris, the eldest of the three sons of Onsi Sawiris who founded Orascom Construction Industries in 1950. The Sawiris family is among the wealthiest in the Middle East.
Fortune gained from building telecom assets in emerging markets
Naguib Sawiris founded Orascom Telecom Holdings in Egypt in 1997 in partnership with France Telecom and Motorola Egypt. Through organic growth and a series of acquisitions of telecom companies in Pakistan, eleven African countries, and Yemen, the company grew and floated on the Cairo Stock exchange in 2000. In 2012 Wind Telecom, the parent of Orascom Telecom Holdings, was acquired by Vimpelcom, for $6.5 billion in stock and cash to create the world's sixth largest telecom provider. The sale yielded $1.5 billion in cash and a 20% stake in Vimpelcom worth $5 billion.
Forbes Billionaires 2019 has assessed the wealth of Naguib Sawiris at $3 billion.