New Research: C-Suite Confidential - Ten Key Tech & Ops Trends For The Wealth Management Sector
Wendy Spires, Head Of Research, November 21, 2019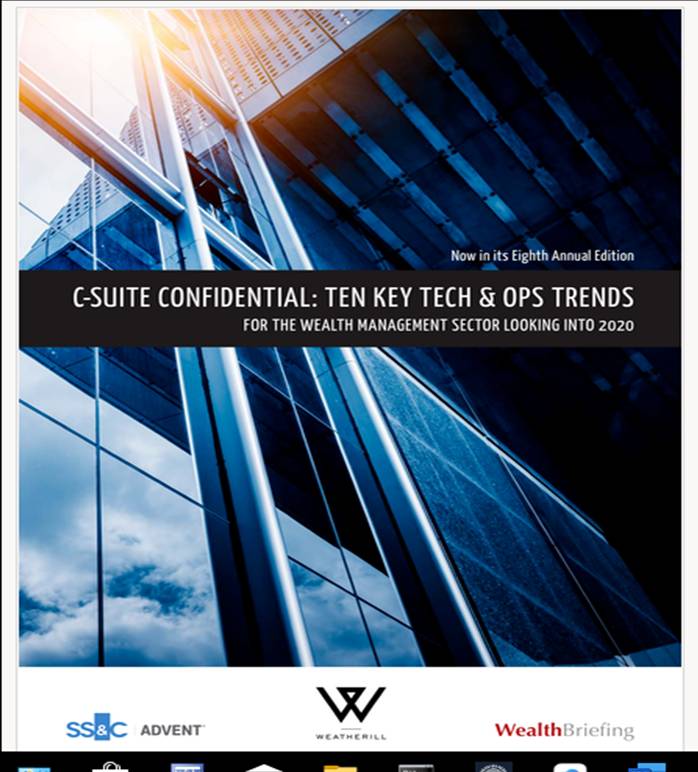 Here's brand-new research from this publication on tech and operations trends that are important for the world's wealth management industry.
This news service has launched an exciting new research paper which sets out 10 key technology and operations trends that all wealth management professionals need to know about as we look ahead into next year.

Those looking for a foothold on the most significant technology and operations trends affecting the wealth management sector should make sure that WealthBriefing and SS&C Advent's new research paper is top of their reading list. (WealthBriefing is sister news service to Family Wealth Report.)

Our eighth annual overview highlights key trends as seen by those on the front line of the sector's digitization, and brings together datapoints and candid comments from chief operating officers, chief technology officers and other senior executives based all around the globe to create an invaluable peer benchmarking tool.

This succinct yet wide-ranging report shines a light on both macro and micro trends, beginning with industry growth sentiment and ending on operating model evolution, taking in every key area of development in between.

For the first time, we tackle the industry's plans for fees, new business lines and protecting profitability, in addition to all the issues around efficiencies and technology choices that we have traced over almost a decade.

C-Suite Confidential: Ten Key Tech & Ops Trends for the Wealth Management Sector Looking into 2020 represents the voice of the industry by featuring anonymized comments from senior wealth management executives - as well as datapoints painting the true picture of how technology and operations trends are really playing out.

With the industry now fully embroiled in a digital arms race, this report will help technology specialists, business leaders and relationship managers alike to cut across the hype to discover what their peer organizations are doing as they retool.

This report is available to all full members of the WealthBriefing community by completing the following form.