US Nears $1.0 Billion Deal With 1MDB Scandal "Mastermind" - Reports
Tom Burroughes, Group Editor , November 1, 2019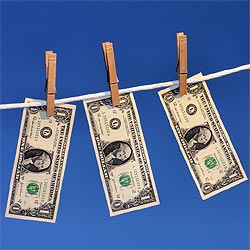 A figure in the middle of the international corruption scandal is near to agreeing a $1.0 billion repayment to US authorities, but that doesn't get him off the hook for criminal charges, reports said.
The fugitive financier widely cited as the mastermind of the 1MDB corruption scandal is poised to forfeit some $1 billion to the US Department of Justice, in a tentative settlement in civil forfeiture cases, media reports have said.
The US Department of Justice has said that criminal proceedings continue.
Malaysia's Jho Low, who has gone into hiding, faces criminal charges for conspiring to evade the US Foreign Corrupt Practices Act and plotting to make and conceal "foreign and conduit" campaign contributions to the 2012 presidential elections. The South China Morning Post and other media outlets said that actions against Low over the scandal continue.
For the past few years, Malaysia and the wider financial world have been rocked by claims that $4.5 billion was siphoned from the 1MDB fund and allegedly used by former Malaysian prime minister Najib Razak, and others, to enjoy a luxurious lifestyle, such as buying jewels, yachts and, in a bizarre twist, finance the making of the Wolf of Wall Street film. (In a case of life imitating art, the Hollywood film is a biopic about a notorious fraudster.)
Regulators in Singapore, Switzerland, the US and others have investigated financial transactions linked to the 1MDB case. In the case of Singapore, for example, the Monetary Authority of Singapore kicked out Swiss banks BSI and Falcon Private Bank for serious lapses in their controls. Goldman Sachs faces a multi-billion payout to the Malaysian government over its alleged role in handling 1MDB-linked money.
Asked about a possible transfer of money from Jho Low to the US, the DOJ was quoted as saying: "This agreement does not release any entity or individual from filed or potential criminal charges."
Bloomberg, The New York Times and Malaysian business daily The Edge Markets reported the settlement deal, citing unnamed sources.