Single Family Offices: How Their Assets Compare
Alastair Graham, October 18, 2019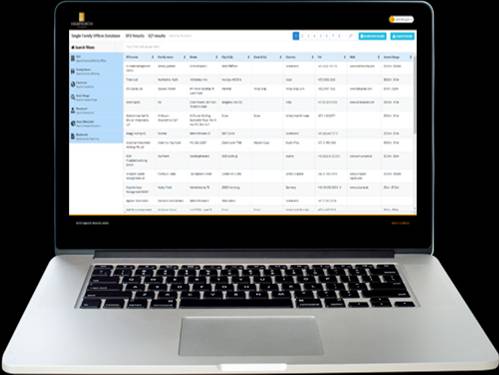 This article shows the actual size of Europe's single family offices and how they stack up in total AuM against the region's leading pension funds.
(An earlier version of this news item appeared in WealthBriefing, sister news service to this one. The statistics here concern European SFOs, but given the often international nature of their investments and the parallels with the market in North America, we thought readers would find this of value. This news service has been working on an exclusive media partnership with Highworth, the data and analytics firm tracking single family offices. See here to register for a trial to its database.)
In this latest analysis from Highworth's founder and managing director, Alastair Graham, examines how large family offices are compared with the big blocks of institutional money, run by pension funds. This article, which focuses on Europe, concludes that single family offices in Europe collectively hold €1.52 trillion ($1.68 trillion) of assets, which equates to 20 per cent of the AuM held by the region's largest pension funds. (Please send feedback to tom.burroughes@wealthbriefing.com)
In September IPE, a specialist pensions journal, published a ranking of the largest European pension funds by assets managed, the IPE 1,000. IPE calculated that in 2018-19 the assets managed by the top 1,000 European pension funds grew by 7 per cent to €7.72 trillion ($8.6 trillion). The IPE calculation is in the same ballpark as the assessment of EFAMA, the European Fund & Asset Management Association, which calculated that in 2018 European institutional investors held €25 trillion assets under management, of which pension funds comprised 28 per cent or €7 trillion.
For IPE to compile a European pension fund assets ranking was painstaking and useful, but public sources are readily available. The journal said: "There is a wide number of sources of data for European pension funds …with associations, the OECD, and others."
Identifying AuM of single family offices
The same cannot be said of another significant group of European capital managers, single family offices, because there is no requirement for SFOs to file reports of their assets under management. Moreover, many single family offices fly under the radar and few sources exist which systematically identify and profile single family offices, let alone report on their assets under management.
Yet one source does exist, and its assessment of the aggregate AuM of 1,000 single family offices in Europe shows that although SFOs cannot match pension funds for total AuM, nonetheless, they are a significant force in the European market for the management of capital.